Text to Speech
Choose from 10+ different voices.
Automatically create audio using the latest text-to-speech technology from Amazon. Write a description for a stop, choose a voice and professional audio will be generated! Of course, you can always upload custom audio if you prefer. You can choose a different voice for each stop and change all of these options at any time.
Available Voices
We offer a variety of different voices based on language and accent. When creating or editing a stop you will need to choose the "text-to-speech" option in the form and choose the voice you'd like to use: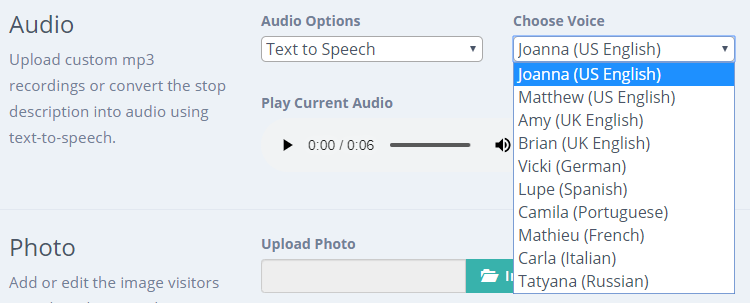 If you don't see your language listed we can add more voices for you! Please reach out to support@youraudiotour.com to ask for another language or find out what new voices might be avialable
Voice Samples
We've provided a short sample of each voice so you can listen to each voice quickly. Listen to each voice below to find out which sounds right for your tour:
Olivia (Australian English)
Russell (Australian English)
Custom Audio
You may be planning to use custom audio for your tour - that's great! Custom audio can provide an excellent and creative visitor experience. However, text-to-speech can help you recreate your tour in other languages! It also allows you to quickly add stops to the tour while waiting for a voice recording to be finished.
We give you the flexibiity to use the audio format that works for you. You can change the settings for any stop at any time. Feel free to try all the options to see what works for you!